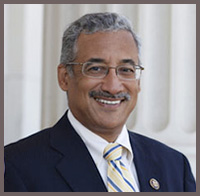 Join Two National Peace Calls this Week! Guest Speaker: Rep. Bobby Scott
► October 9th, Action Team Orientation Call
Listen to the audio:


► October 12th, Monthly "Action Team Group Call"
with Congressman Bobby Scott [D-VA]
On October 9th, we will be hosting a newcomer orientation call to share with you more about what we are up to at The Peace Alliance and Student Peace Alliance, as well as how you can get involved in your community to help us build peace and form Peace Alliance Action Teams. The call will take place Wednesday, October 9th at 6:00 pm PT, 9:00 ET. Register for the call here.
Then, on Saturday morning, Oct. 12th, we will have our first Monthly Action Team call with our Team Leaders and Team Members.  Normally, this call is only for our Action Teams, but this first month, we are inviting anyone to listen in who is a member of an action team, whose action team is forming or is interested in learning more about action teams.
Our special guest speaker this month is none other than the Honorable Congressman Bobby Scott (pictured right). Rep. Scott is the lead author and champion of the Youth PROMISE Act.  His expertise on how we can build peace in our communities is unmatched in Congress.
In addition to our guest speaker, we will also be discussing our monthly action, which will be a Letter to the Editor action focusing on the announcement of the Nobel Peace Prize (announced October 11th). This call will take place Saturday, October 12th at 10:00 am PT, 1:00 ET. Register for this call here.
Our Peace Alliance & Student Peace Alliance Action Teams are the budding, promising, heart and soul of the organization.  Working together in communities across the nation, we will all be taking powerful, effective actions to help move forward the work of peacebuilding and the cause of peace in our culture.
Start or join an Action Team and help build a world where:
Communities are safe, loving and nurturing for all our kids.
We invest in programs that prevent conflict, before it erupts into violence.
We smartly intervene when crime or violence does occur, looking to restorative & rehabilitative models.
Millions of peacebuilders are at work in conflict hotspots around the world.
We empower ourselves and our families with the interpersonal skills to live a more peaceful life.
Our policies and laws match our peaceful values.
Connect and build community with people who share your desires for spreading the peace and working the levers of power to make it our cultural norm.  Learn more about starting an action team in your community here.
https://peacealliance.org/wp-content/uploads/2013/10/scott2.jpg
196
200
Matthew
Matthew
2013-10-08 13:28:16
2013-11-10 11:48:31
Join Two National Peace Calls this Week! Guest Speaker: Rep. Bobby Scott