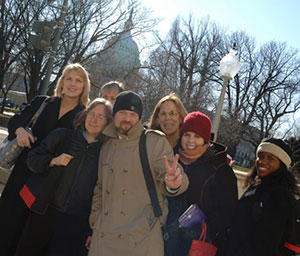 Join our National Peace Action Call Tonight!
Learn about forming an ACTION TEAM in your Community!
Join our National Action Team Activation Call
Wednesday, Sept. 11th
at 9 pm ET/6 pm PT
Guest Speaker:
Sam Daley-Harris
Join us tonight for an inspiring national call on how you can powerfully engage in a movement to create the political will to shift our culture towards peace. We will be talking about Peace Alliance Action Teams, and how you and others in your community can step up to help in specific and effective ways. Learn more about Action Teams here.
Our special guest speaker will be Sam Daley-Harris, founder of RESULTS and author of the book "Reclaiming Our Democracy: Healing the Break Between People and Government." Sam has helped thousands of ordinary citizens transform from hopelessness into extraordinarily powerful advocates.  Sam is now working with The Peace Alliance, coaching us to deepen our grassroots organizing efforts.
Speaking of three organizations Sam founded, Nobel Peace Prize Laureate Muhammad Yunus has said: "No other organization has been as critical a partner in seeing to it that microcredit is used as a tool to eradicate poverty and empower women than RESULTS and RESULTS Educational Fund's Microcredit Summit Campaign."
Sam has also worked this way with Citizens Climate Lobby, an organization that is not yet six years old, and in the first seven months of 2013 their volunteers in the US and Canada have had 622 Letters to the Editor published, 126 op-eds published, and they have had 559 meetings with Members of Congress or their staff.  Sam will be working with us to bring our peacebuilding advocacy to this level of success. Read a recent New York Times article featuring Sam and his work — to learn more.
Join the call to learn more about how you can get involved! >>
Sincerely,
Bob Baskin
President
---
"Reclaiming Our Democracy: Healing the Break
Between People and Government"
 The courage this book shows us how to unleash is our only hope to save creation for our grandchildren and for theirs.
~ Nobel Peace Prize Laureate Muhammad Yunus
from his foreword to the new edition
In the 20th anniversary edition of Reclaiming Our Democracy, available now, Daley-Harris shares how he and the citizen advocacy organizations he has founded (RESULTS and the Microcredit Summit Campaign) or coached (Citizens Climate Lobby) have been leading change-makers in three global movements: 1) microfinance, 2) child survival, and 3) climate change. This is an excellent, must-read book for anyone looking to be an empowered citizen.
Ashoka founder Bill Drayton has called Daley-Harris, "one of the certified great social entrepreneurs of the last decades."  David Bornstein in his May 29, 2013 Fixes column in the NY Times wrote the following about Daley-Harris' work: "We don't often hear stories like this—stories about ordinary citizens working powerfully side by side with elected officials—particularly citizens who don't come bearing campaign checks.  That's why it's important to understand how these changes were achieved and how much more may be possible than most citizens imagine."
Sam will be speaking around the country on his book tour.  If he is in your city, be sure to stop by and see him.
More praise for the 20th anniversary edition of Reclaiming Our Democracy:
Make no mistake, this book is not about advocacy by mouse click, phone messages left at Congressional switchboards, handwritten letters drafted during coffee hour and then forgotten, or lighting up Facebook and Twitter.  It is about uncovering and then lighting up the unquenchable desire in each of us to make a difference in the world.  It is about providing a powerful structure of support so that our courage is what drives us, not our fear.  That is why this 20th anniversary edition of Reclaiming Our Democracy is so critically important.  The courage this book shows us how to unleash is our only hope to save creation for our grandchildren and for theirs.
~ Muhammad Yunus, Nobel Peace Prize Laureate, From the foreword to the 20th anniversary edition of Reclaiming Our Democracy
….This 20th anniversary Edition of Reclaiming Our Democracy reminds us that we really all can do something to save the world.
Carolyn Miles, President and CEO Save the Children
….This book is about more than reclaiming our democracy: it is about reclaiming the soul of citizenship.
Bill Shore, Founder and CEO Share Our Strength
….Sam Daley-Harris has changed the world in hugely important ways — several times…. This book shares, in Sam's characteristically clear and straight-forward way, how you also can exercise this great power for the good.
Bill Drayton, CEO Ashoka: Everyone a Changemaker
….This book is a manual for anyone who wants to take action to make the world a better place.  There are no excuses for inaction when the opportunities are made so clear by an advocate as accomplished as the author.
Caryl M. Stern, President and CEO U.S. Fund for UNICEF
….Sam Daley Harris is one of the most effective and insightful leaders of our time. The 20th anniversary and re-release of his seminal book, "Reclaiming Our Democracy", is to be celebrated….
Bill and Lynne Twist, Co founders, The Pachamama Alliance
….The story behind RESULTS is truly remarkable – and has as much power today in the climate fight and the remarkable work of the Citizens Climate Lobby as it did 25 years ago when RESULTS started empowering citizens to make a big difference on seemingly intractable problems like hunger and child mortality.…
Jeff Nesbit, CEO Climate Nexus
….Sam Daley-Harris has the unique ability to bring beauty and joy to the stories of citizen movements….It is rare that one reads a book on such serious topics but with so much engagement and fun.  I highly recommend it.
Zainab Salbi, Founder Women for Women
…. I applaud Daley-Harris for drawing attention to the fact that individuals who care about these issues seek opportunities for "personal empowerment" and that sustained, thoughtful engagement with advocates has a significant impact on advancing policies that ultimately create real change in the world.
Helene Gayle, MD, MPH President and CEO CARE
….Sam Daley-Harris acknowledges the difference online activism has made but also challenges us to provide a deeper level of empowerment to our stakeholders who want it. It is a challenge we should heed.
Premal Shah, President Kiva
….Sam Daley Harris has done inspiring work giving ordinary citizens their voice from his founding of the enormously effective RESULTS to helping launch Citizen's Climate Lobby. He's a great guide to effective involvement.
 Paul Loeb, author Soul of a Citizen
….this 20th anniversary edition of Reclaiming Our Democracy provides a prophetic voice that shows how organizations can go much deeper in their empowerment so that citizens can go much deeper in their stand for justice for the poor and for God's creation. Read it, share it and discover new possibilities.
David Beckmann, President Bread for the World
….Reclaiming Our Democracy both inspires and gives us tools for a civil, and yet more effective participation in public discourse.
John L. McCullough, President and CEO Church World Service
….Members of Congress want and need the partnership of citizens to create meaningful change that embodies our highest ideals and we can't do it without you.  Read this book and be emboldened to get involved in making a greater difference on Capitol Hill than you ever dreamed possible.
Ambassador Tony P. Hall, Member of Congress (1979-2002)
…. This updated version is even more important today than when it was first published. It is a must read for everyone who cares about the future and takes the responsibilities of citizenship seriously.
Melanne Verveer US Ambassador for Global Women's Issues (2009-2013)
….Within minutes of reading this book you will begin to discover that the resignation and inertia around our ability to transform the struggles of the bottom billion are as unfounded and ludicrous as the assumption that the world is flat. You will notice yourself itching to participate in what promises to be the grandest awakening of humankind….A wholehearted thumbs up for this powerful, life-affirming book on the possibilities of human culture at its best.
Katherine Woodward Thomas, bestselling author of Calling in "The One," and co-founder of the Feminine Power Global Community
https://peacealliance.org/wp-content/uploads/2013/08/DSC_2615_sm.jpg
256
300
Matthew
Matthew
2013-09-11 13:45:58
2013-09-12 15:34:48
Join our National Peace Action Call Tonight!