Global Alliance for Ministries and Infrastructures for Peace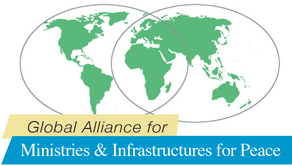 The Peace Alliance is a co-founder of the Global Alliance for Ministries and Infrastructures for Peace (2005), an organization that is recognized in over 50 countries as supporting the establishment of infrastructures for peace in both government and civil society, as peacebuilding becomes institutionalized in nations around the world. GAMIP has hosted six Global Summits (London, UK; Victoria, Canada; Japan; Costa Rica; Cape Town, South Africa; and Geneva, Switzerland), and at each Summit TPA has had a presence, both reporting on progress with the current legislation in the USA and inspiring and training for campaigns for ministries of peace worldwide.
The world can celebrate four Ministries of Peace at this time: Costa Rica, Nepal, Solomon Islands, and Papua New Guinea; and South Sudan, Philippines, and Kirgizstan have an Office of Peace at the highest level of government. GAMIP, in partnership with I4P International Network, has also played a role with members as they have helped to found and encourage National Peace Academies and Peace Institutes in Canada, Costa Rica, Romania, Spain, USA and more.
The Peace Alliance is presently supporting a UN Resolution calling for Infrastructures for Peace, and looks forward to participating in the Seventh Global Summit in Nigeria in 2015.