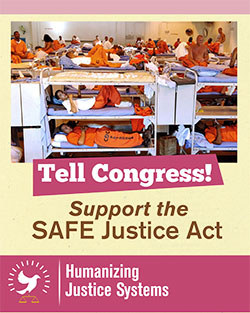 Congressional Petition: SAFE Justice Act!
"Justice is living up to the common creed that says, I am my brother's keeper and my sister's keeper. Justice is making sure every young person knows they are special and they are important and that their lives matter — not because they heard it in a hashtag, but because of the love they feel every single day — not just love from their parents, not just love from their neighborhood, but love from police, love from politicians. Love from somebody who lives on the other side of the country, but says, that young person is still important to me. That's what justice is."
~ President Obama
Speaking Tuesday at the NAACP National Convention
Friends, there is a remarkable political momentum happening across our nation right now to reform our criminal justice system. Thankfully, the momentum is coming from both sides of the aisle. 
Humanizing our Justice Systems is a core priority at The Peace Alliance as well, and we are glad to share that there is a sweeping new bill before Congress right now called the SAFE Justice Act.
In very encouraging news, NBC reporter Luke Russert Tweeted recently that Speaker of the House John Boehner told him he wants to see the bill on the floor for a vote.
The SAFE Justice act is the product of a two year long bipartisan process led by Rep. Jim Sensenbrenner (R-IL) and Rep. Bobby Scott (D-VA) to create a broad and comprehensive reform of the criminal justice system. The bill would:
Allow judges latitude regarding police manipulation of suspects,
Increase use of evidence-based sentencing alternatives,
Provide relief from mandatory minimums and length of sentences,
Reforms probation to make it more supportive and less punitive, helping people reintegrate into the community.
President Obama went on to share in his major speech on criminal justice reform this week that "Every year, we spend $80 billion to keep folks incarcerated — $80 billion. Now, just to put that in perspective, for $80 billion, we could have universal preschool for every 3-year-old and 4-year-old in America. That's what $80 billion buys. For $80 billion, we could double the salary of every high school teacher in America… For what we spend to keep everyone locked up for one year, we could eliminate tuition at every single one of our public colleges and universities."
It is time to refocus our resources to create a more humane and effective justice system.  We cannot continue with the path we are on; it is time to shape a new future. It's time to Humanize our Justice Systems by passing serious criminal justice reforms.
Tell your Members of Congress to support the SAFE Justice Act today!
Thank you,
.
Jeff Pudlo,
Legislative Director
https://peacealliance.org/wp-content/uploads/2015/07/Safe-Justice-sm1.jpg
313
250
Matthew
Matthew
2015-07-16 16:34:11
2017-05-22 00:11:14
Congressional Petition: SAFE Justice Act!