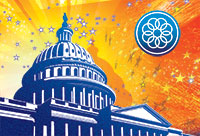 Big Victory for International Peacebuilding Work!
Federal budget passes with increased peacebuidling funding in key agencies
Before the holidays we sent out several action alerts urging you to contact Congress to support peacebuidling funding in three different areas: Complex Crises Fund (CCF), Conflict Stabilization Operations (CSO) and the U.S. Institute of Peace (USIP).  Your efforts paid off!  The thousands of messages and calls they received from us and other groups helped not only keep funding, it actually grew.
This is significant since many parts of the Federal Budget saw radical cuts this year, and the House had been consistently voting to completely eliminate funding for these peacebuilding priorities above.  Thanks for all you did to help.
We received our full requested ask for CSO, bringing it up to $45.2 million (up from $27m in 2013), CCF received the full $40m (up from $36m in 2013) and there was also an additional $6,016,000 for U.S. Institute of Peace, bringing their total up to $37m (that's still short of our $41m ask, but a healthy increase from last year). You can learn more about these three agencies here.
CSO: $45,200,000
USIP: $37,000,000
CCF: $40,000,000
We would of course like to see our nation invest much more broadly in peacebuidling work, and we have work to do in each of these agencies to get them even more focused on the more leading-edge peacebuilding work, but this is very encouraging news.  Let's stay vigilant in our efforts.
Together, we are making a difference!
https://peacealliance.org/wp-content/uploads/2014/01/captiol-rays-coin-200.jpg
136
200
Matthew
Matthew
2014-02-02 15:51:18
2014-02-03 13:44:05
Big Victory for International Peacebuilding Work!