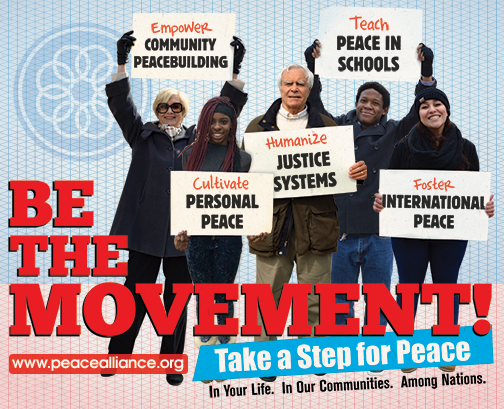 Be the Movement! Take a Step for Peace – Launch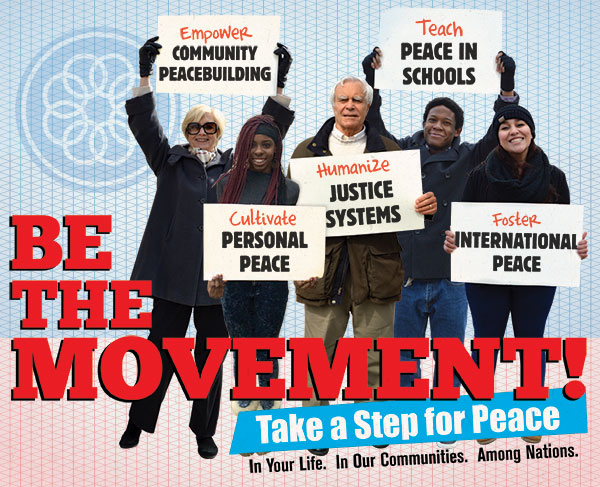 Quick Sign-up:
"I want to be a part of this! Keep me updated"

Peace Alliance Friends,
We are beyond excited to announce the launch of a major new peacebuilding initiative that has been long in the works:  "Be the Movement! Take a Step for Peace: In Your Life, In Our Communities, Among Nations."
We hope this effort, and your partnership as part of it, will be a big part of the next great leap forward for the field of peacebuilding and the cause of peace on earth. It is time and millions of us are ready. Will you join us?
Sign the declaration expressing your support!
Five Cornerstones of Peacebuilding
The Peace Alliance specifically prioritizes the following areas:

Empowering Community Peacebuilding:

 Supporting comprehensive activities and strategies in communities working to address such challenges as crime, violence, and gangs. Effective programs may include hands-on street outreach and intervention, mental health services, out-of-school programs, police/community relations, and arts-based practices. Learn more!

---

Teaching Peace in Schools: Bringing into our schools conflict resolution curricula with tools such as social-emotional learning, communication techniques, restorative processes, mindfulness and other proven peacebuilding skills to increase graduation rates and transform violence, bullying, truancy, and other challenges facing youth. Learn more!

---

Humanizing Justice Systems: Moving away from overly punitive policies,  toward healing-oriented criminal and juvenile justice approaches. Restorative justice, diversion/alternative incarceration programs, and prisoner rehabilitation & re-entry programs are among the most promising solutions. Learn more!


.

---

Cultivating Personal Peace: Integrating peace in our own lives, with our children, in our relationships, in the workplace, and in our approach to activism, through such methods as compassionate communication, mindfulness, empathy, and stress reduction. Learn more!


.

---

Fostering International Peace: Championing peacebuilding approaches to international conflict and atrocity prevention in hotspots through mediation, diplomacy, and effective on-the-ground programs. Important components may involve development, post-conflict justice, humanitarian aid, mediation and support for frameworks necessary for democratic processes. Learn more!

---
Learn much more about all these cornerstones and how you can get involved. (link)
We recognize the powerful complementary work of millions of peacebuilders doing this conflict resolution work around the globe. We aspire to create a unifying platform, to strengthen and expand a vibrant peace movement that brings effective solutions to bear on the challenges we face in our personal lives, our communities, and across our planet.
Be the Movement! is about you and the millions like you who care about the cause of peace and are willing to step up, in whatever ways you are able and inspired, to make it happen. Together we can Be the Movement! that will change our world for the better.
Please join us today!  Learn more and sign the declaration that you are willing to be a part of it.  Please also help us fund this effort by making a donation today.
In solidarity,
Bob Baskin,
President
Become a partner in Be the Movement.
Sign the declaration!
"I commit to being a part of Be the Movement. I will invest time, energy and/or coin, at whatever level I'm able, to building upon one or more of these five cornerstones making them a core part of the foundation of our society."
https://peacealliance.org/wp-content/uploads/2015/04/Facebook_graphic_Be_Movement.png
409
504
Matthew
Matthew
2015-04-27 12:02:33
2015-04-27 12:06:35
Be the Movement! Take a Step for Peace – Launch