Tag Archive for:
Sen. Jamie Eldridge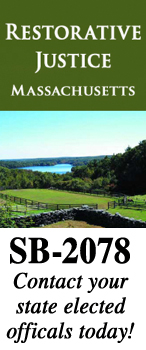 The people of Massachusetts have an opportunity right now to help pioneer the development of one of the world's most powerful peacebuilding tools: restorative justice. Restorative Justice Bill SB-2078 is picking up significant momentum after a huge turnout at a House hearing recently. Sen. Jamie Eldridge introduced his bill and shared his experiences with restorative justice to a standing-room-only crowd, including Bedford's Police Chief Robert Bongiorno, Hon. John Cratsley (ret.), and Middlesex DA Marian Ryan.
https://peacealliance.org/wp-content/uploads/2014/05/SB-2078-MA.jpg
350
146
Allison
Allison
2014-05-13 18:57:23
2014-05-14 20:37:04
Action Alert: SB-2078 – Support Restorative Justice in MA!