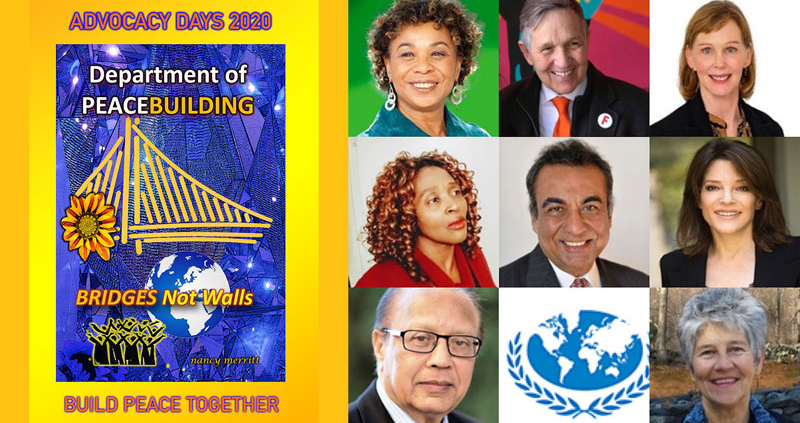 Sunday! Come join Marianne Williamson, Rep. Barbara Lee, Amb. Chowdhury and more!
Advocacy Days 2020 – Building Bridges – Not Walls
Register for Inspiring Presentations
September 20, 2020 (Sunday)
9am – 3pm Pacific / Noon – 6pm Eastern
We are kicking off Advocacy Days 2020 with a day of prominent peacebuilders, legislators and peacebuilding advocates from around the world who will discuss why and how we can

build bridges for a better world. 
And, how to advocate for Department of Peacebuilding (DoP/ HR 1111) legislation.
This 9/20/20 event is free!
The full event flyer is here.


Speaker biographies and photos are here. 


For more information on the Department of Peacebuilding campaign, click here.
PEACE IN WITH INSPIRING SPEAKERS ON 9/20/20
Please join us for these segments and inspiring speakers (listed in presentation order).
>> Why Peacebuilding and A Department of Peacebuilding
      9 am – 10:45 am PT/ noon – 1:45 ET
Rep. Barbara Lee (Current DoP Sponsor)
Former Rep. Dennis Kucinich (Former DoP Sponsor)
Rita Marie Johnson (Connection Practice, Initiator of Costa Rica Ministry of Justice & Peace)
>> A Beloved Community & Peacebuilding
    

11 am – 12:45 pm PT/ 2 pm – 3:45 ET
Cynthia Gilliam (Peacebuilder & Community Organizer)
Azim Khamisa (Tariq Khamisa Foundation)
Marianne Williamson (Peace Alliance Co-founder, Author)

>> What the World Needs Now:  Infrastructures for Peace
    

1 pm – 2:45 pm PT/ 4 pm -5:45 ET
Ambassador Anwarul K. Chowdhury (Former Under-Secretary-General and High Representative of the UN, Founder of the Global Movement for The Culture of Peace)
Global Alliance for Ministries & Infrastructures of Peace Representatives – Saul Arbess (Canada), Alicia Cabezudo (Latin America) & Prince Ose Irene (Nigeria)
Dot Maver (Former Peace Alliance Executive Director, National Peace Academy Founder)
Click here to register for this amazing program!
PEACE OUT WITH CONGRESS ON 9/21/20 & 9/22/20
This is your chance to let your voice be heard in Congress!
Attend Congressional Zoom meetings, contact your member of Congress, call potential DoP cosponsors, thank current DoP cosponsors! 
For details on these Congressional actions click here. 

To register and attend a sampling of Congressional Zoom meetings on 9/21/20 and 9/22/20, click here.
If you have scheduled a meeting, please email [email protected] with the name of the Congressional office, who you will meet with and their email, the date and time and if you wish to use our Zoom line for the meeting.  We need this information asap.
Build bridges, not walls.  Please join us for Advocacy Days 2020 … a very peacebuilding way to celebrate International Day of Peace, with its theme of Shaping Peace Together. 
Together we can build bridges to create a nation that fosters hope, community, equality, peace and justice.
THE DEPARTMENT OF PEACEBUILDING CAMPAIGN

Anne Creter (NJ), Karen Johnson (IL), Nancy Merritt (CA), Kendra Mon (CA),
Debra Poss (GA), Pat Simon (MA), Cetta Smart (IL) and Jerilyn Stapleton (CA)
Thank you DoP Intern Fernando I. Andrade (GA)

For more information: To read the DoP bill, key highlights of a DoP and more, see Department of Peacebuilding. Join National Department of Peacebuilding conference calls on the third Wednesday of every month at 5 pm PT/ 8 pm ET, 1-929-436-2866 or 1-669-900-6833, meeting ID 464 735 321 or, to be placed on the call notice list, contact [email protected].  Link to register for monthly calls here (does not change monthly).

Donate to the Department of Peacebuilding Campaign here.
https://peacealliance.org/wp-content/uploads/2020/09/2020-09-Advocacy-Days-800.jpg
450
800
Terry Mason
Terry Mason
2020-09-14 20:43:55
2020-09-18 12:24:05
Sunday! Come join Marianne Williamson, Rep. Barbara Lee, Amb. Chowdhury and more!