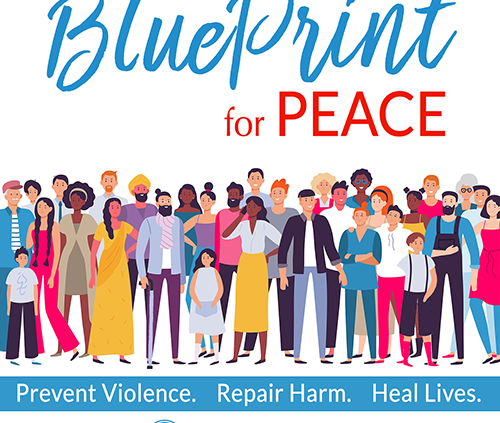 Blueprint for Peace Organization & Public Figure Endorsement Form
Please use the form below to let us know you or your organization endorses the Blueprint for Peace. Notable public figures can also endorse. If an organization, we would ideally like you to share your email address that shares a url with your org so that we can verify.  (If you are not able to, then let us know how we can best verify the authenticity of the endorsement.)

Read the full endorsement statement: 
We face staggering levels of violence in America and around the globe. The personal, social and economic costs to individuals, families, and our communities can be overwhelming, and yet we have far more effective root cause solutions available than we are currently employing. We must implement policies and invest in programs, both domestically and internationally, that are proven to work, and bring them up to the scale needed to turn this devastation around.
We are asking that each of us — including elected officials, candidates, governing bodies, organizations and businesses —  endorse and sign-on to this broad framework of  the " Blueprint for Peace" in support of positive solutions to violence.
These proven effective solutions should be robustly implemented at local, state, federal and international levels, lowering the financial and emotional cost to our country and world while building social resilience. We endorse these actions as a first step:
Humanize Justice Systems: Move away from overly punitive policies, toward healing-oriented criminal and juvenile justice approaches that address underlying causes. Restorative justice, diversion/alternative incarceration programs, trauma-informed systems, and prisoner rehabilitation and re-entry programs are among the most promising solutions.
Community Interventions: Comprehensive activities and strategies working to address such challenges as crime, violence, gangs and healing trauma. Effective programs include a public health approach with hands-on street outreach and intervention, wrap-around services, mental health services, out-of-school programs, and police/community relations.
Teach Peace in Schools: Conflict resolution curricula in our schools, using tools such as social-emotional learning, empathetic communication techniques, restorative processes, mindfulness, and other proven peacebuilding skills to increase graduation rates and transform violence, bullying, truancy, and other challenges facing youth.
Enhance Personal and Interpersonal Support: Robust resources addressing mental health, suicide prevention, domestic violence, trauma, workplace violence, life skills, parenting skills, and related areas.
Foster International Peace: Peacebuilding approaches to international conflict and atrocity prevention in global hotspots through mediation, diplomacy, and effective on-the-ground programs. Important components may involve development, ecological interventions, post-conflict justice, humanitarian aid, Nuclear non-proliferation, mediation, truth and reconciliation and support for frameworks necessary for democratic processes.
Download .pdf of the endorsement statement.
https://peacealliance.org/wp-content/uploads/2021/11/blueprint-logo-500cointpa.png
500
500
Matthew
Matthew
2021-11-19 16:14:41
2022-01-23 14:16:53
Blueprint for Peace Organization & Public Figure Endorsement Form