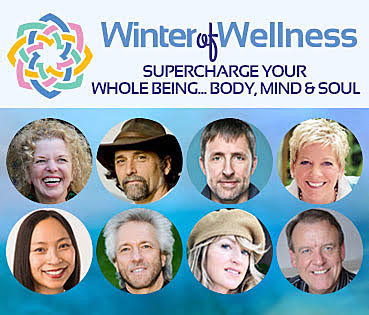 Discover the Keys to Your Optimal Health
Supporter, are you yearning for a radiant life with great health, peace of mind and plenty of energy? Want to see peace in the world and be a part of helping to create it, but struggling to balance out your own life enough to feel like you can contribute at your highest potential? Do you sometimes feel overwhelmed by all the wellness claims out there and wish you could find leading-edge information you can trust? Whether you're dealing with chronic pain, moving toward optimal health, getting in shape or seeking relief from stress, it can be difficult to know where to turn for approaches that support your WHOLE being — body, mind and soul. That's why we are inviting you to join us for Winter of Wellness, which brings together 40+ top doctors, teachers, and healers in service to your holistic health.
We're honored to be one of the co-sponsors of this exciting series full of innovative insights and techniques that can empower you to take control of your health and wellbeing. We believe that to create peace, we have to have the internal capacity to help generate it. Our own health and well-being are vital.
During this 5-day online event, you'll hear from Donna Eden, David Crow, Dave Asprey, Sue Morter, Holly Tse, Naveen Jain, Gregg Braden, Sara Crow, Dawson Church, Pamela Miles, Arjun Das, Tamara Wolfson, and many other top experts in their fields… Winter of Wellness Free Online Event Winter of Wellness January 16-20, 2018 Embark on a journey that can SUPERCHARGE your whole life and revitalize your family, your friends… and even your community. We hope you'll participate in this FREE online series, which will expand your horizons and open you to new levels of wellness in all areas of your life! RSVP here for Winter of Wellness — at no charge. Here's just a small sample of what you'll discover during this year's Winter of Wellness: Healing with medicinal plants, herbs, oils & astrology Applying essential energy medicine principles & techniques Enhancing your mind, mood & memory Eating for a thriving body, community & planet The health benefits of good sex & good sleep Unlocking your body's innate intelligence & healing potential Treating chronic illness, pain & fatigue Addressing inflammation & autoimmune disorders And SO MUCH more… Register for this amazing event — and get ready to experience integrated health, healing, and wellness for your entire being… body, mind, and soul. RSVP here for Winter of Wellness — at no charge. In Peace, Matthew Albracht, Board of Directors P.S. Here's what past participants have said about this life-changing event: Overall EXTREMELY well done. Very good moderation and information. Offered in easily integrated way. — Steven W. Evans, Hawaii, U.S. The Winter of Wellness Summit is consistently top notch. I am left inspired and energized, with renewed hope for the future and faith in my fellow man. The speakers are phenomenal. What a treasure! — Linda I was especially touched by the host Robyn Benson, an extremely sensitive woman with a voice carried by energy and joy, and very pertinent and respectful comments and questions. — Ann Robitaille, Quebec, Canada I gained tons of info from the Winter of Wellness, including not only physical and mental health but also environmental health. I also enjoyed sessions on relationships, growth and creativity. — Alyssa I loved the variety of speakers and the very well-placed questions of the interviewer! It covered mind, body, health, food, environment, belief systems and so much more to explore. Awesome! — Swanica, Holland The sessions were all wonderful. They were full of helpful information and I am so grateful that you provided these wonderful healers. — Rita Gibson, U.S. Enjoyed the enormous diversity. Feel enlivened and optimistic about my ability to create more vibrancy in my life. — Dorien Israel, Thailand WOW — well named! The speakers I was able to listen to blew me away with their knowledge and generosity. — Lorraine R., U.S. I truly enjoyed the informative summit. It was a wonderful experience to hear so many speakers talk about health, life, journeys and struggles. It is a true gift to be able to have all of this information at my fingertips. Thank you so much. — Devon Register here for Winter of Wellness — at no charge
https://peacealliance.org/wp-content/uploads/2018/04/winter-wellness.jpg
315
369
Michele Wong
Michele Wong
2018-01-08 11:30:53
2018-04-17 12:34:02
Discover the Keys to Your Optimal Health