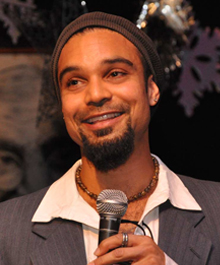 Community Peacebuilding – Teaching Peace in Schools Peace Alliance Monthly Action Call – Tuesday!!
Friends,
You are invited to join us on Tuesday, February 9th, at 9pm eastern, 8pm central, 7pm mountain, 6pm pacific (and 5pm Alaskan), for our February Action Call!! We will be joined by special guest, HawaH Kasat – Founder and Executive Director of One Common Unity! OCU's program, "Fly By Light," has been doing phenomenal peacebuilding work with youth in some of Washington D.C.'s most stressed schools and neighborhoods.

HawaH Kasat,
One Common Unity
If you were to dream up your fantasy of an educational program for teens, it would probably include skill-building in conflict resolution, experiential environmental education, and nourishment of creative expression through arts such as music and poetry. Our special guest HawaH Kasat has created this dreamy curriculum, and the organization he founded is successfully pioneering the introduction of this beautiful approach into Washington D.C.'s public schools. Join us on Tuesday to learn more about why and how this was done, and what YOU can do to help it and other such treasures flourish!
Watch the Trailer for the Beautiful Documentary about HawaH's work with Fly By Light
We are here to support you at the level of your desire for change – and that is our pleasure. Please join us. Learn. Be inspired. Take action. Build peace.
Dan Kahn
National Field Director
and Lori Draper
Assistant National Field Director
More about HawaH Kasat:
HawaH is an artist, author, educator, yoga instructor, and community organizer.  He has dedicated his life to teaching about solutions to violence and ways to peace, and has traveled to over 28 countries in the past 14 years to facilitate interactive workshops, dialogues, perform poetry, teach yoga, and speak with those interested in creating a caring, sustainable, and equitable world.  In 2000, HawaH finished at American University with a degree in Peace and Educational Philosophy, and co-founded One Common Unity, a non-profit organization based in Washington, D.C.
https://peacealliance.org/wp-content/uploads/2016/02/hawah_staff.jpg
265
220
Matthew
Matthew
2016-02-04 15:14:12
2017-05-20 14:45:45
Community Peacebuilding – Teaching Peace in Schools Peace Alliance Monthly Action Call – Tuesday!!