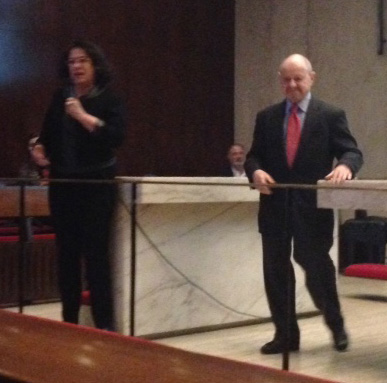 Bob Baskin speaks at U.N. on "The Elimination and Prevention of All Violence Against Women and Girls"
Our President, Bob Baskin, spoke recently at the UN, along with one of our supporters, Marla Mossman of The Peace Caravan Project.  Below is the text of Bob's speech.
UN – NGO/CSW 60
March 21, 2016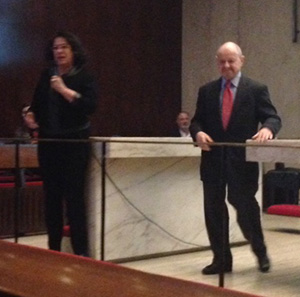 I want everyone to know that I feel honored to be given this opportunity to share some thoughts with all of you today about The Peace Alliance; peacebuilding; and its implications on the status of women.  
The Peace Alliance is a grassroots educational and advocacy organization focused on transforming how individuals, communities, and even nations respond to conflict and violence.
And, our network of 60,000 grassroots volunteers works hard at this every single day.
We are working to build a movement – one million strong – to amplify the critical work of peacebuilders all over the world and to promote effective prevention and restorative intervention solutions.
But, under the adage that a picture is worth a thousand words, let me play you a short video that will give you a clearer idea of who we are and what we are working to do.
During this year's Commission on the Status of Women, "The Elimination and Prevention of All Violence Against Women and Girls" is a primary theme.  Here at The Peace Alliance, we recognize the vulnerability of women and girls and the particular risks to violence they face. And we work, on all levels, to address this violence and push for changes to give women the rights they deserve.
Our advocacy work, done on the national level here in the U.S., focuses on pushing for legislative priorities that promote effective prevention and restorative intervention solutions that save lives and dollars, while enhancing cooperation skills and increasing social resilience.
Through our advocacy, The Peace Alliance, together with its coalition partners, pushes for large-scale changes to United States policies, both international and domestic, that will protect women and promote peace.
In our effort to foster international peace, the Peace Alliance advocates for policies to prevent human rights violations and mass atrocities. This is of great import to women in particular, since they are often impacted the most by these atrocities.
Under this umbrella, we have supported President Obama in his creation of the Atrocity Prevention Board. This inter-agency is working to ensure that genocide and mass atrocity prevention are a priority at the highest levels of the U.S. government.
It provides a comprehensive, whole-of-government approach to identify and address atrocity threats, and oversee institutional changes to prevent genocide and mass atrocities.
Most recently, we have worked together with U.S. Senator Ben Cardin from Maryland to introduce the Genocide and Atrocity Prevention Act in the U.S. Senate.  
The GAP Act, as it has been called, makes the Atrocity Prevention Board permanent – protecting it from change under future Presidential administrations.
It also authorizes the Complex Crises Fund, which allows for critical funds for humanitarian efforts to be distributed more efficiently – which is essential during a fast, violent conflict.  In other words, we don't have to go through the Congressional budgetary bureaucracy.
With our coalition partners, The Peace Alliance has also been a strong voice on Capitol Hill lobbying for the passage of several additional Violence Against Women Acts, affecting women, both domestically and internationally.  
For example, in 2013, The Peace Alliance advocated for, and celebrated the victory in Congress of, the reauthorization of the Violence Against Women Act, which President Obama signed into law.
This important U.S. domestic policy, protects women in several ways:
•    It enhances judicial and legal tools needed to combat violence against women;
•    It improves services for victims of domestic and other forms of violence;
•    It adds protection for the young;
•    It strengthens health care services for victims; and
•    It protects battered immigrants.
A sister bill to this law, The International Violence Against Women Act, was introduced in this last year and we will be, once again, working with our coalition partners to see that it, too, passes.
This international bill directs the U.S. Secretary of State to establish an Office of Global Women's Issues, and be headed by an Ambassador-at-Large for Global Women's Issues.
It establishes in the U.S. Agency for International Development (USAID) a Senior Coordinator for Gender Equality and Women's Empowerment to direct USAID activities, policies, programs, and funding relating to gender equality and women's empowerment.
And, it requires the Ambassador-at-Large to develop a U.S. global strategy to prevent and respond to violence against women and girls; to coordinate U.S. government efforts regarding gender integration; and to advance the status of women and girls in U.S. foreign policy.
We at the Peace Alliance recognize that obstacles to economic opportunity place women and girls at increased risk of violence – which is why we take a holistic approach to peacebuilding.
To that end, we worked hard for the Lily Ledbetter Fair Pay Act, which is now U.S domestic law.
This law declares it unlawful to adopt a discriminatory compensation decision or other practice in the workplace.
And, it significantly extends the time for women to file for recovery of back pay when they have been affected by a discriminatory decision or practice, regarding wages, benefits, or other compensation is paid.
Achieving economic equality for women is a critical step in peacebuilding. The passage of this bill was one small step, but a step in the right direction, nevertheless.  
And we will continue to work for more comprehensive and aggressive policies.
*********************************************************************
Some of you may be asking, "What does Mr. Baskin, obviously a man, have to say that relates to women, and me, and my life?"  How can he understand the barriers, the ceilings, and the violence that too many of us face?
It's a reasonable question.
You may recall a couple of years ago, a US tragedy that was in the news about Newtown CT and Sandy Hook Elementary School where 20 young kids — 1st and 2nd graders—and 6 teachers, all women by the way, were shot and killed by a deranged 20 year old.
I remember that day well.
The next morning, I was compelled to get onto my computer and started writing about how much I was affected personally by the Newtown tragedy.
I said I had been born and raised in Connecticut.
I said I knew Newtown well.
I said I had even been a public school teacher in Connecticut.
And, I told everyone, for one of the very few times that I talked about this in public, that 17 years earlier on October 29, 1995, my 24-year old daughter, Leah, had been brutally murdered by a man in a case that remains unsolved to this day.
She left behind two young children, Ryan, age 5, and Abby, age 3, to whom I had to explain that their Mom was never coming home.
I felt pain that day for the violence that had been done to my daughter.
And, I felt the pain of those Newtown families who lost their kids so senselessly.  
And, I understand what some of you and your families go through when see the violence or injustice that's going on around you or you lose someone you love.
Trust me, no one who hasn't experienced these kinds of losses can truly understand.  
But I can, as I know some of you can.
I remember this as I take on the challenge of convincing folks that we can't keep going the way we are and must find alternatives to deal with war, violence against women, violence on our streets, incarceration — particularly against minorities and kids, and even ways to achieve better police-community relations.
It's what keeps me going.
I wish I hadn't lost my daughter, but I knew her kids needed me and my values tell me there was only one direction to move — and that's FORWARD!!!!
Let me conclude with a true story that I hope will reinforce this message and maybe even inspire you.
After the tragedy of Newtown, President Obama appointed Vice President Biden to head up a Task Force to Reduce Gun Violence.
On the eve of the release of the Task Force's recommendations, VP Biden held a press conference.
A smart-aleck reporter asked the VP, "Why are you even issuing your report on gun safety?  Don't you know that the NRA has already convinced enough Congressmen to not make any changes to our gun laws?"  
The VP looked somewhat pointedly at that reporter and said, "You know, just because we can't do everything, doesn't mean we shouldn't do something."
And he was right.
Each of us can do something.
You can do something to live more peaceful lives and be role models on how to do it.
You can speak less harshly, you can treat others the way you want to be treated, you can show restraint when facing conflict with family, your friends, and with strangers looking for trouble.
And, you can speak out when you see wrong being done.
It's March Madness time; so finally, I want to leave you with a thought stated by a famous US College Basketball Coach, Jim Valvano, former coach at North Carolina State University.  
He gave a speech just a few days before he passed away from cancer at the age of 47.  
He had been feeling and looking terrible recently, but on that day, though he had to be helped up the few steps to the podium, he seemed to draw energy from the audience.  
He said he had been hit with a terrible situation, but he was going to keep fighting as long as he had breath.  
And he concluded by saying "Don't ever give up.  Never give up."  
And I say that to you.  
Don't ever give up.
Keep fighting for your rights.
Thank you.
https://peacealliance.org/wp-content/uploads/2016/03/MarlaBob_380.jpg
383
387
Matthew
Matthew
2016-03-23 16:02:25
2017-05-20 14:37:31
Bob Baskin speaks at U.N. on "The Elimination and Prevention of All Violence Against Women and Girls"