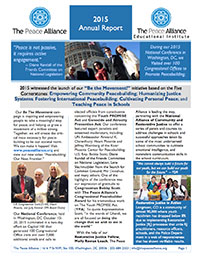 Dear Peace Alliance Friends and Supporters,
Thank you for following our Peacebuilding work in 2015! To keep you informed, we've just published our final Peace Alliance 2015 Annual Report, which includes a recap of our accomplishments in 2015, as well as a summary of what lies ahead for us in 2016.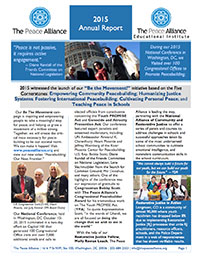 Click here to view The Peace Alliance 2015 Annual Report. (.pdf)
There was much to feel excited by, from progress around peacebuilding legislation, to our successful conference, to the launch of our "Be the Movement!" initiative based on the Five Cornerstones: Empowering Community Peacebuilding; Humanizing Justice Systems; Fostering International Peacebuilding; Cultivating Personal Peace; and Teaching Peace in Schools.
We hope you enjoy reading about this important work, you were such an important part of making this happen. We send to you our very best wishes for a peaceful and productive 2016!
All the best,

Bob Baskin, President
and the entire Peace Alliance Staff and Board
https://peacealliance.org/wp-content/uploads/2016/02/annual_report_cover_200.jpg
256
200
Matthew
Matthew
2016-02-04 17:55:51
2016-02-04 17:59:47
2015 Annual Report